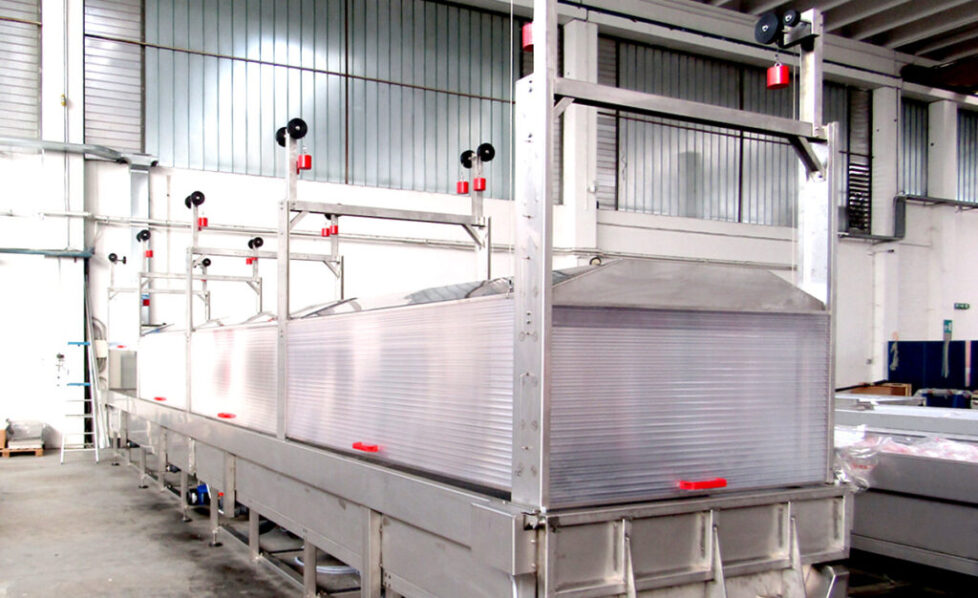 Formation water baths from DITEC Engineering allow an optimal cooling of the batteries during the charging stage, which thus occurs at a constant temperature. This allows to transfer a greater amount of charge while keeping short the formation time.
The formation water baths produced by DITEC Engineering are entirely made of AISI316L stainless steel and materials that doesn't react with acids used in the batteries. They are equipped with devices which allow to manage the process in a precise way, with the moving systems, water management systems, suction hoods and voltage rectifiers.
Motorized rollers move the batteries along the whole tank, distributing the distances between them to allow a homogeneous flow of the cooling liquid. Tanks inlet and outlet are equipped with pneumatic bulkheads that facilitate the passage of batteries as well as containing the cooling water during the formation time.
A system of pumps and sensors regulate the water level and its recirculation. On the basis of the temperature setting and the amount of heat emitted from the batteries, the system is able to carry out a replacement of the cooling liquid and ensure a greater dissipation capacity.
The water baths are entirely covered by suction hoods which, along with side panels, fully enclose the tank to conveying the produced gases to special air management systems.
The production cycle is automatic and all the parameters, the levels, the steps of handling and timing are managed and customized by the operator thanks to a centralized supervision system. Moreover, light indicators allow a simple and immediate monitoring of the current stage.
Options
Manual formation water baths that allow a free positioning of the batteries, keeping the other features, are available on request.
For all the models is available an optional device that generates micro bubbles in order to maximize the heat transfer between water and batteries.
Main features
Optimization of the battery cooling
Optimized management of convection
Customizable dimensions and productivity
Centralized management software
Multiple work recipes
Centralized air and water extraction
High durability materials