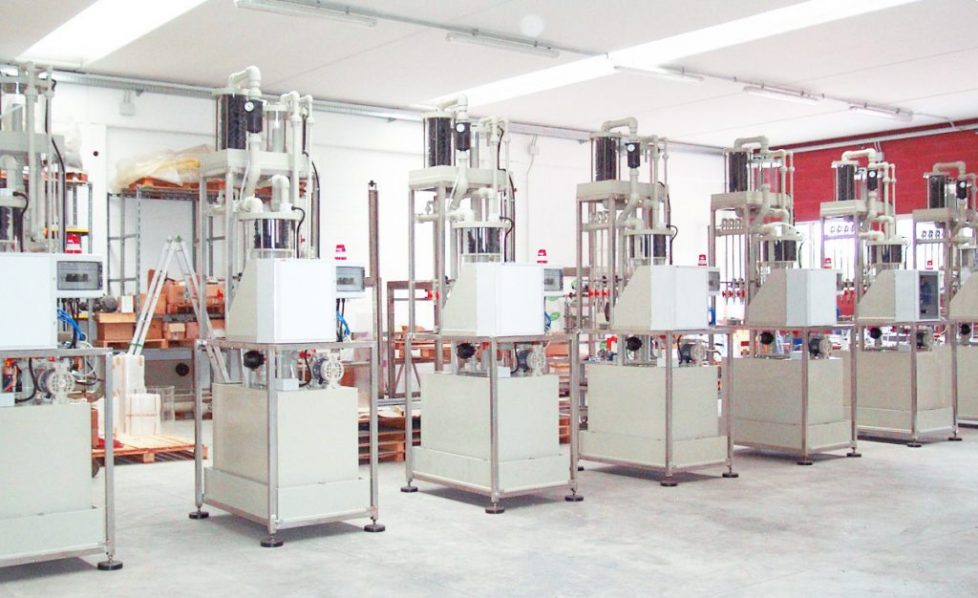 The station for acid filling of industrial batteries supplies acid to the elements using a pneumatically operated pistol. The pistol has a pushbutton to deliver acid and a suction system to aspire back into the station of the excess acid. Therefore this allows the levelling of the acid in the battery.
By setting the dispensing wheel (buffer washer) is possible to obtain the required level in each element according to its height. Suction valves allow the suction of the acid from the element. So no loss of acid (dripping) occurs during the operator movement from one element to another.
Even more the acid filling machine is equipped with pneumatic controls to completely manage the operations of the station. To start the filling, you just need to press the pushbutton on the pistol. Similarly, releasing the button the system stops filling.
Furthermore, a safety system blocks the operations after 30 seconds of inactivity (pushbutton in rest position). Plus, a manual valve unloads the acid in case of oversupply.
The support structure for the acid filling machine is in AISI 316L stainless steel and has adjustable feet.
Main parts for the station
acid storage tank with a capacity of 500lt complete with acid filter
collection tank under the station
pneumatically operated pump in PP Viton complete with piezometric storage tank
pneumatically operated vacuum pump in PP Viton complete with acid separating vase, fumes scrubber, filters, valves, lung and connection piping
pneumatic control panel for acid filling of industrial batteries operations;
filling and levelling pistols (4) completely in PP with adjustable buffer washers for level setting and complete with about 4mt of tubing per pistol