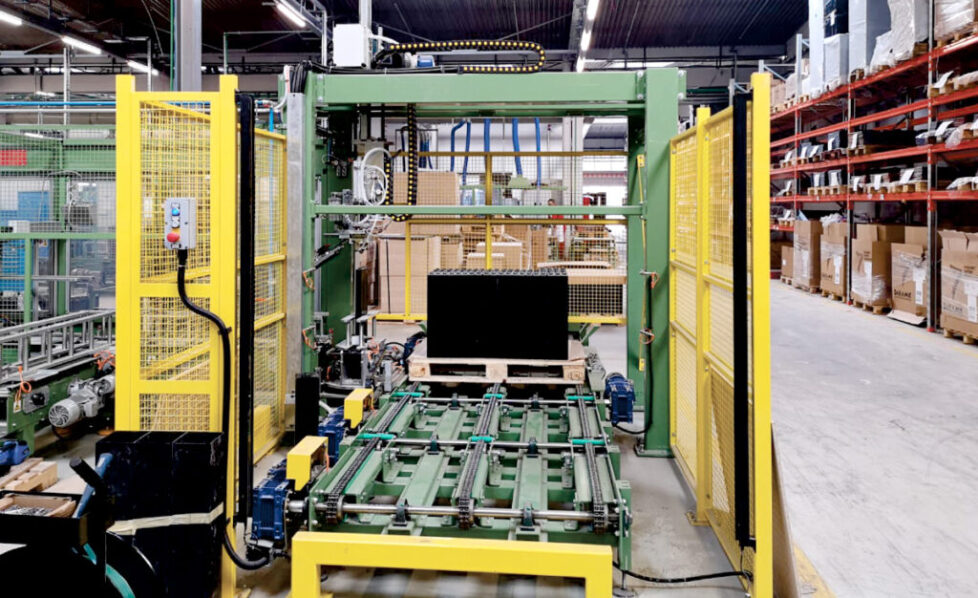 DITEC Engineering is engaged in the production of palletizing systems too. Palletizers are used to have finished and semi-finished products well-ordered in the warehouse, to not occupy a lot of space and/or to be moved easily to the next production step. This last example is the case of industrial accumulators; in the picture above is represented a palletizer for industrial elements, to group them into pallets and move them more easily from the assembly to the formation.
More generally, palletizing systems provide automatic laying of boxes or other types of packaging of goods to the pallets, for efficient transportation and storage. Moving boxes to a pallet manually is a time consuming operation, longer and more expensive process. Such work can create a lot of stress for workers.
The Cartesian palletizers were developed because it required a higher speed for palletizing. This type of palletizers uses a continuous-motion flow divider that directs products to the desired area on the layer forming platform.
Robotic palletizers have an end of arm tool (end effector) to pick up the product from a conveyor or table with layers and place it on a pallet.
Both conventional and robotic palletizers can receive the product at high altitude. The end of the tool for manipulators has evolved in recent years to accommodate changes in package structure and package types.
Main features
Multiple working recipes, to handle multiple kind of batteries
Fully automatic with integrated control panel to program the working cycle
Multi-axis
Include a roller so it's better integrable within a line
Exchangeable head, to manage different batteries type
Costs saving