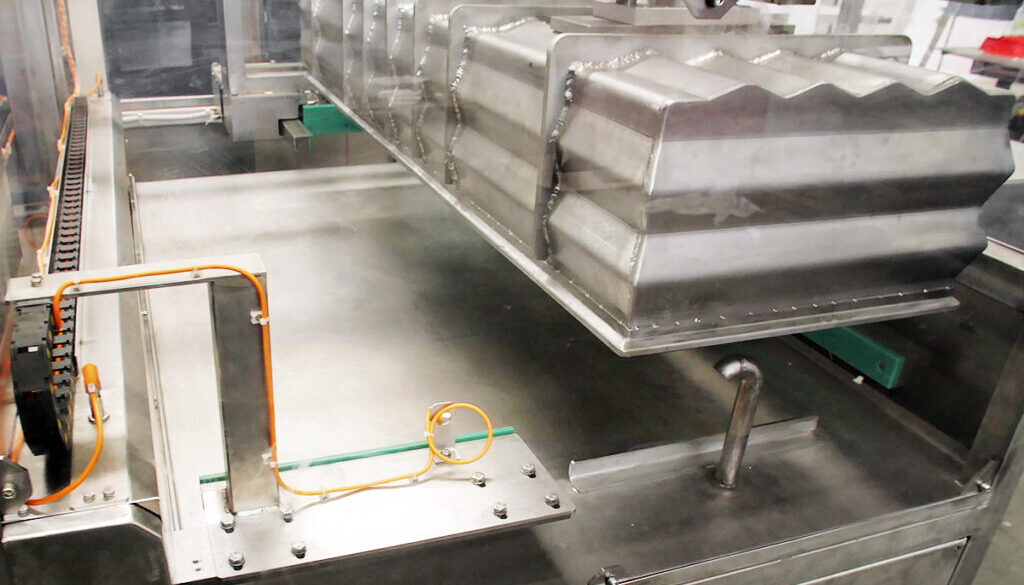 The ever-increasing requirements of car manufacturers has resulted in an evolution of the batteries as well. While the less recent lead-acid batteries had commonly more space between the lead plates, the late ones have passed through a space optimization process that brought, at the same time, more density to entrapped gases.
Why electrolyte degassing
Electrolyte degassing of lead-acid batteries is used to remove the oxygen and hydrogen "micro bubbles" that normally are present in the interface between lead plates and electrolyte, to obtain a more accurate electrolyte level over the time, meeting the needs of the car manufacturers (more and more often they require a specific electrolyte level with a specific tolerance).
The process
degassing cycle is fully automated
input transfer units move the batteries from the main line into the station and accumulators are stacked into the collection area to be processed
vacuum chamber moves down, covering the accumulators, and then the vacuum process starts
gases that come out from the electrolyte are brought out by the vacuum system
after the preset time the containment cover is lifted, and next the batteries are moved out the processing area
an exit system pushes the accumulators towards the conveyor belt so reinserting them in the original line
DITEC Engineering has designed and manufactured an automatic machine for the electrolyte degassing of lead-acid batteries. It is already working with great results at our customer's facility.