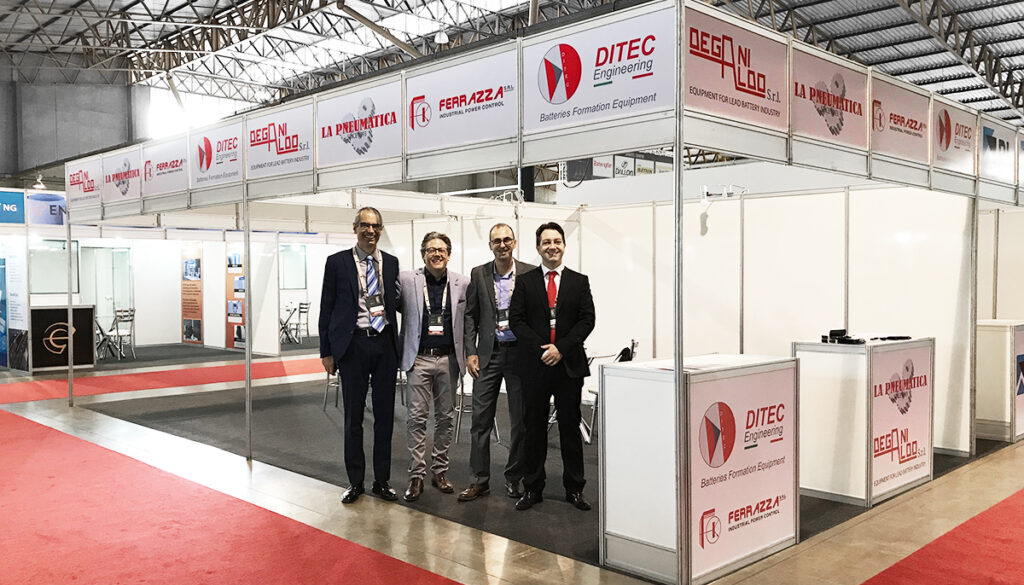 FENIBAT will take place in Londrina, Paraná, Brazil.
Its goal is to promote new products, services and technologies to the Brazilian market and the entire continent.

For the third time, and already consolidated as one of the largest in the world, we will have a technical trade fair in the country and invite your company to participate.
DITEC Engineering is exhibiting with FERRAZZA Industrial Power Control, LA PNEUMATICA and DEGANI ALDO.
TARGET AUDIENCE
FENIBAT was created for the people involved in the lead acid battery and lead recycling industry, considering the entire production and administrative chain. FENIBAT aims to strengthen these industries by bringing up-to-date information and stimulating business at national and international levels.
FENIBAT will bring information of interest to:
• Entrepreneurs, managers and investors;
• Managers, supervisors and technicians of Purchasing, Production, Maintenance, Administration, Projects and Product Development, Quality Control, Laboratories, Metrology, Occupational Health and Safety, Environment, etc .;
• Academics, teachers, scholars and researchers in Electrochemistry, Metallurgy, Ecology, Sustainability, etc.
ADMISSION
Admission is free but controlled and some requirements apply.
To participate in the event, either as a Visitor or an Exhibitor, you must obtain the approval of your registration in advance.
EXHIBITION
The FENIBAT Exhibition will feature nearly 100 booths from companies providing products and services for the lead acid battery and lead recycling industry.

At FENIBAT they will be exhibiting national and international manufacturers and distributors of:

• Equipment for lead recycling;
• Pollution control equipment for battery plants and lead recyclers;
• Machines for the production of oxide, grating, crimping and plate curing;
• Assembly lines for automotive, motorcycle, traction and stationary batteries;
• Training and loading equipment and electrical laboratory equipment;
• Finishing lines and final test;
• Robotic production systems;
• Tabs, boxes, covers, labels, accessories, etc .;
• Lead, additives, expanders and auxiliary materials;
• Personal hygiene products and safety and personal protection equipment;
• Logistics, import and export services;
• Management software for administrative processes, production and distribution, etc.

As in previous editions of 2013, 2015, new international companies will be in Brazil and Latin America for the first time to offer their products and services.
Come to FENIBAT. WE WAIT FOR YOU!

Date: September 24-26, 2017
Londrina – PR