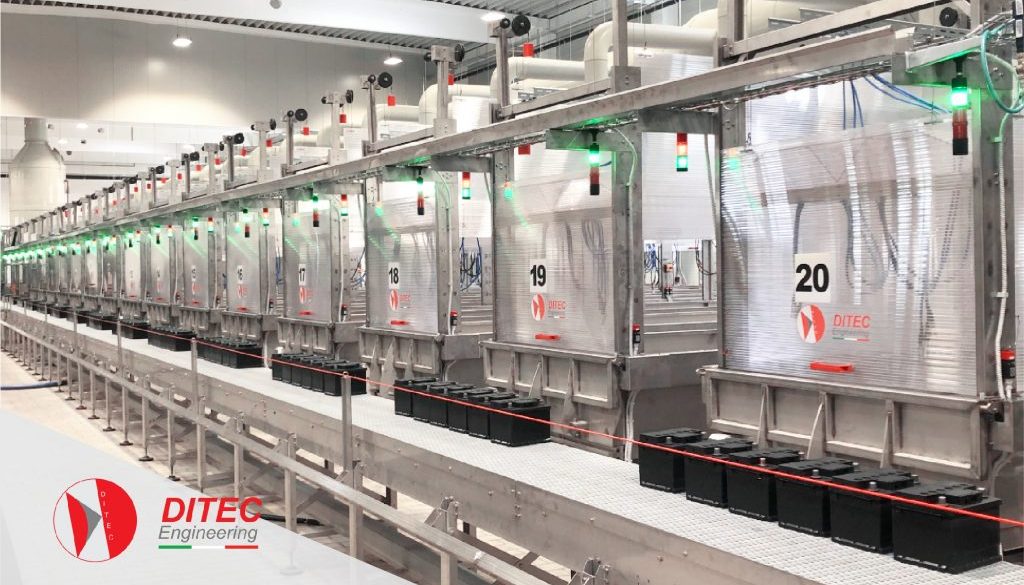 We have completed a new fully automated battery formation plant in Hungary. This plant stands out as one of our most ambitious project and one of our greatest success. Here's why.
First the plant is fully automated, thanks to our innovative technologies. Second, we completed its entire construction and start-up in record-breaking times. Third, we delivered the plant fully equipped with an exceptionally large amount of first-rate machinery.
This success perfectly demonstrates DITEC Engineering's excellence, so let us break down some of the crucial highlights.
THE CUSTOMER RELATIONSHIP:
readily adapting to individual needs
At DITEC Engineering nothing is as important as the unique relationship that we build with each Customer. Our company's philosophy demands that we put the Customer's individual needs before anything else, adapting as required.
In this case, our Customer required the plant to be ready for production as soon as possible. Consequently, we gave fullest priority to a speedy delivery, and completed the whole project in a dauntingly short timeframe. The task that we took up was immense: it ranged from the design and planning stages all the way to the installation and start-up of the machinery. Nonetheless, we worked at critical speed and delivered the plant within the requested timings.
This success was possible thanks to our core commitment: listening to each Customer individually and working together to find the best-fitting solutions for all requirements.
THE TECHNOLOGY: 
pioneering search for automation and efficiency
This plant showcases another crucial quality of DITEC Engineering: our use of innovative technology to achieve maximum automation and efficiency. Let us look at some concrete examples.
The plant's battery-handling system is completely automated. This demonstrates the ground-breaking extent of automation that we deliver. Loading, unloading, rotating, and potentializing batteries become trivial processes.

Our pioneering engineering strategies made it possible to complete the entire plant

without any civil works. 


Civil works, such as digging for the installation of infrastructure, requireplanning and authorizations to be carried out. This can severely hinder and slow down the development of a new plant. Our state-of-the-art engineering eliminated this obstacle and sped up the construction process.

Our technical skills were put in the service of

environmental concerns

. In particular, the plant comes equipped with state-of-the-art systems for the treatment of air and wastewater.
THE MACHINERY:
top quality in great quantities
Our Customer was particularly pleased with the amount of top-quality machinery that we were able to provide in extremely short timeframes. The record number of formation tanks inside the plant demonstrates this.
It is in the design of the machinery, however, that our engineering expertise truly shines. We produced highly streamlined equipment, intended for maximum ease of use by the plant's operators.
---
If you want to stay up-to-date on our studies, innovations and work, visit our LinkedIn profile.
If you want to read more articles visit our news page.
---