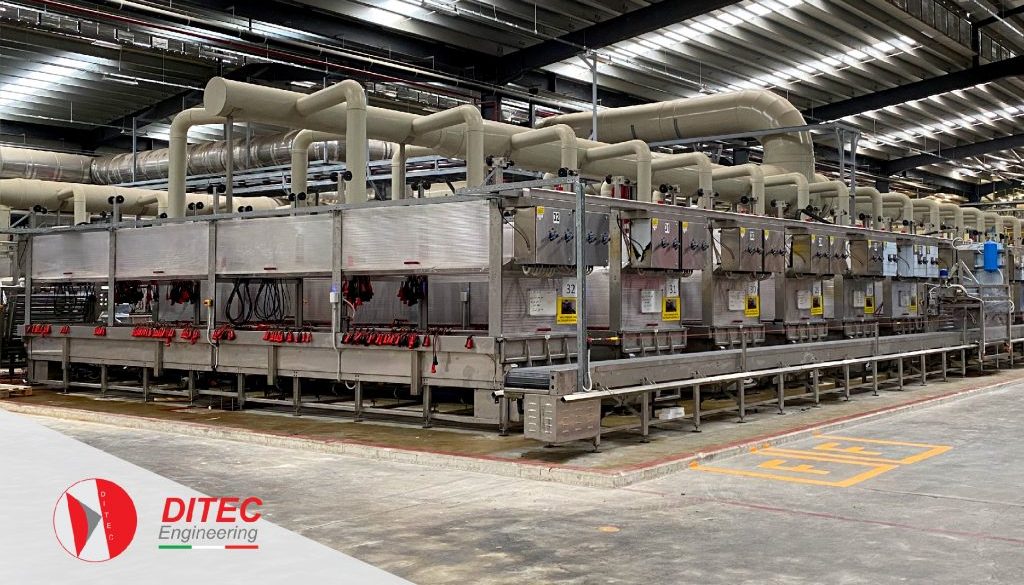 In this article we take stock of the collaboration that began six years ago, with our Partners La Pneumatica and Ferrazza and the Customer AKO AKÜ.
The collaboration gave the first results as early as 2016, when we completed our first lead–acid battery formation plant for AKO AKÜ in Turkey.
Since then, we have also built an innovative buffer system that optimizes production by maximizing flexibility, as well as a sister plant to the first one with world-class automation.
Maximizing Flexibility: The Buffer
One of our main achievements in Turkey is the construction of an advanced buffer system for the plant.
The buffer is a system designed to store and sort the batteries when they make their way through the production line, between the assembly stage and the formation stage.
This buffer system contributes great flexibility to the manufacturing process. In particular, it gives much better control over which type of battery is sent to the formation stage, and which type remains in storage, instead.
The 2018 Plant: At the Forefront of Innovation
In 2018 we completed our second formation plant for Ako Aku, only two years after the construction of the first one.
Following the requests of the Customer, and planning closely together with Them, we made this plant a world-standard of automation. To give an example, so little manpower is required that a single worker can manage the entire formation process.
As another example, our bid towards innovation and optimization has also resulted in significantly reduced charging times. In both cases, innovation translates into clear financial gain for the Customer.
A Special Relationship
Throughout these six years, our customer-oriented philosophy has always been our first priority. We have built a close relationship with Ako Akü and planned our project in adherence to Their specific needs.
Even if the Customer's interests in Turkey matched our commitment to leading-edge innovation, adapting individually to each Customer comes first. We pride ourselves in our flexibility, always working closely with each Customer to find the best suited solutions.
---
If you want to stay up-to-date on our studies, innovations and work, visit our LinkedIn profile.
If you want to read more articles visit our news page.
---