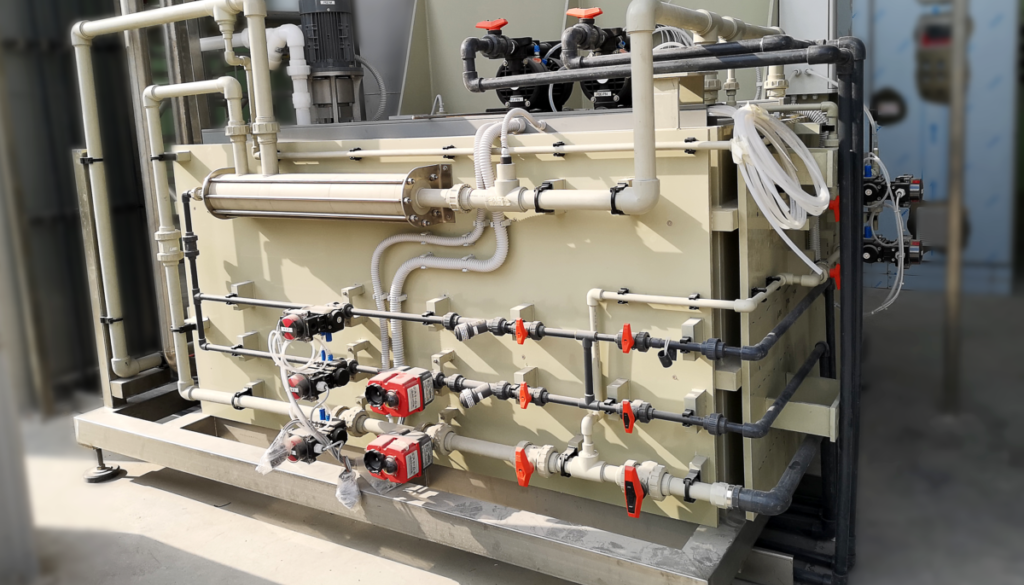 In this article we will present one of the most important steps in the production of accumulators, a process that our company has recently implemented with state-of-the-art solutions. 
The acid preparation is one of the most important stage in the production of lead-acid batteries. In fact, this phase significantly affects the final quality of the products. 
It is precisely for this reason that our company has decided to implement this process as part of its offer, thereby keeping up with innovations and opportunities for improvement in the industry. 
The core of the acid preparation system is the dilution module, which dilutes the acid in specified concentrations starting from raw acid and demineralised water. This process produces a solution that is stored in tanks and used as electrolyte in other stages of the production chain. By improving the functioning system of the main module, DITEC Engineering is able to improve the whole process, up to the final product. 
How is this possible? By relying on innovative, fully automated, high-tech solutions. 
The process, implemented with high automation and high precision, has been recently put in place in our latest plant in Qatar. To learn more, read our article "A complete high-tech plant in Qatar"
DITEC Engineering is always looking for advanced solutions to optimise production and increase automation, and it is able to work with the customer to find the most suitable solution to its needs, agreeing to an appropriate degree of automation and responding with customised solutions.
---
Se vuoi rimanere sempre aggiornato sui nostri studi, innovazioni e lavori, visita il nostro profilo LinkedIn.
---