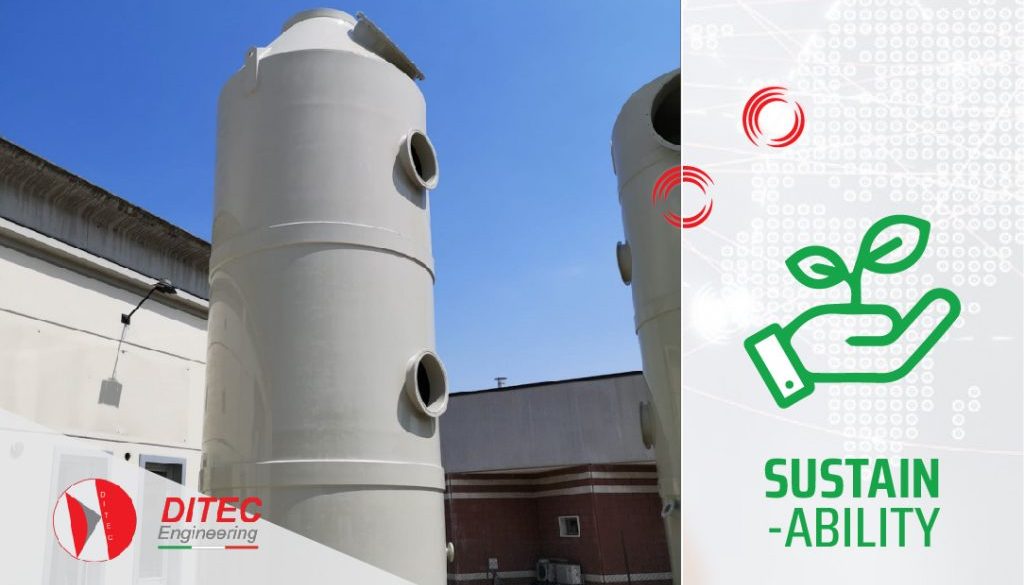 This article discusses how lead-acid battery plants can be more environmentally sustainable through the use of the scrubber.
The scrubber is a purification filter with a dual function:
Purifying the air emitted from lead-acid battery production;

Dissipating the heat from the water used in the production process.
This is a necessary component of every plant, but we can customize it according to our Customers' individual needs. For example, we can make scrubbers with acid resistant materials such as stainless steel or polypropylene. Upon request, we can integrate a water acidity neutralization system into this machine.
The scrubber can be managed centrally by the Scada Supervision System.
Keeping a watchful eye on environmental pollution 
In a world like today's, attention to environmental protection is paramount, which is why lead-acid battery plants integrate environmental pollution reduction systems such as this.
 What is the purpose of the scrubber in air treatment? The elimination of acid produced during the battery charging phase. A duct transfers the acid vapor produced in this phase to the scrubber, which purifies the air via a filtering system.
What is the purpose of the scrubber in water treatment? The scrubber helps to keep the water at a constant temperature during the entire production process. This ensures a better and uniform quality for the final product.
In addition, the passage of water through the scrubber for reuse is important. This affects both the sustainability of the production process and the lower economic impact of reduced water consumption.
The scrubber is an integral part of the accumulator formation plant, a necessary machine for energy saving and efficiency and air cleaning.
DITEC Engineering is devoting increasing attention to the theme of environmental protection, to improve the lead-acid battery industry in collaboration with its Customers.
---
If you want to stay up-to-date on our studies, innovations and work, visit our LinkedIn profile.
If you want to read more articles visit our news page.
---